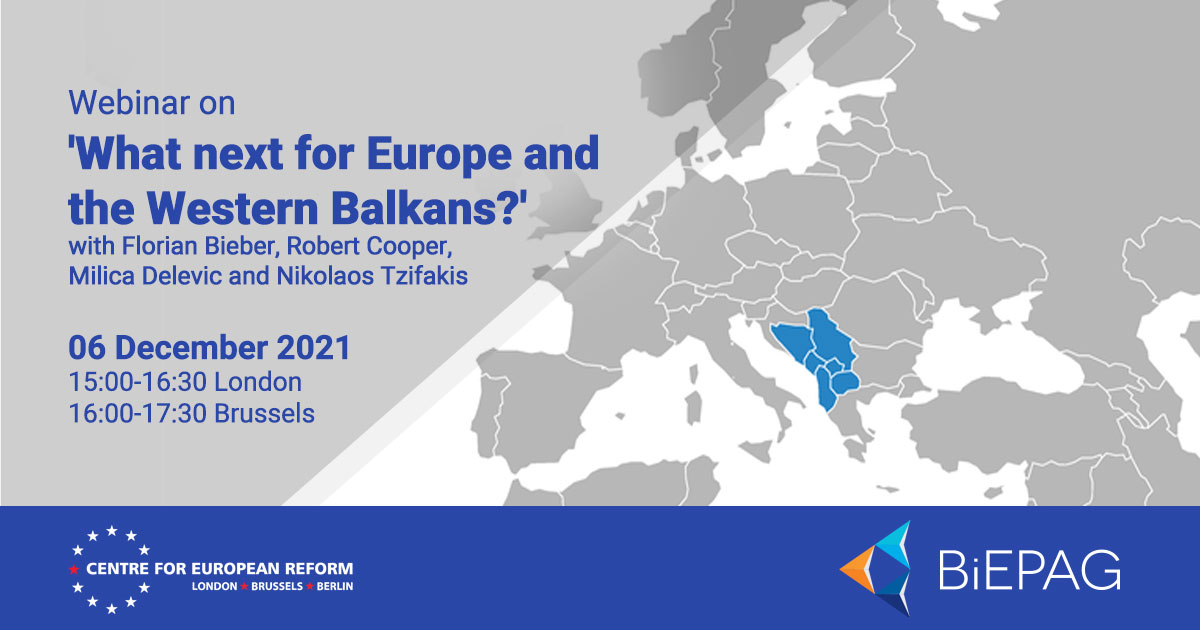 6 December, 2021
15:00-16:30 London / 16:00-17:30 Brussels
Zoom Webinar
Balkans in Europe Policy Advisory Group (BiEPAG) in partnership with the Centre for European Reform will organize the webinar on European policy towards the Western Balkans. The event is envisioned as a discussion on the implications of the EU accession process stalling and the growing influence of non-Western powers in the region, and a public presentation of the upcoming BiEPAG brief "Geopolitically irrelevant in its 'inner courtyard'? The EU amidst third actors in the Western Balkans".
The speakers are:
Florian Bieber, BiEPAG Coordinator and Professor of Southeast European History & Politics, University of Graz
Robert Cooper, Former Adviser to the EU's High Representative
Milica Delević, BiEPAG Member
Nikolaos Tzifakis, BiEPAG Member and Associate Professor, University of Peloponnese
Following the introductory remarks Luigi Scazzieri, Research Fellow at the CER, will chair a Q&A discussion with the audience. The whole event will be on-the-record.
The webinar will take place via Zoom. If you wish to attend the webinar please send an e-mail to elena.petkovska@balkanfund.org.
Tags:
`