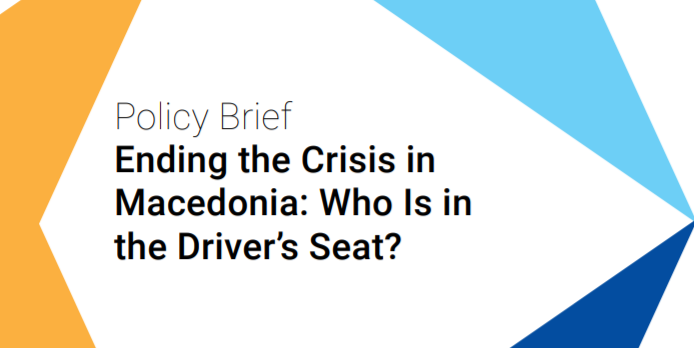 As it is noted in the brief, If ten years ago, Macedonia was a front-runner in the reform process, today it struggles to stop moving backward on virtually every single political criteria for EU membership. It is arguably the most devastating case against the credibility of the EU's enlargement policy. The nascent efforts of the Przino agreement to establish the rule of law, accountability, and a level electoral playing field are met with strong resistance by the delegitimized system that seeks impunity and its salvage through quick elections. As the scheduled dissolution of Parliament on 7 April is imminent, what are the possible scenarios and how can the international community help restore democracy and ensure stability in the country, sending a powerful message to other political elites in the Balkans?".
On April 4, 2016, the European Fund for the Balkans and the Balkans in Europe Policy Advisory Group, organised an informal discussion, dedicated to the latest BIEPAG policy brief 'Ending the Crisis in Macedonia: Who Is in the Driver's Seat?' in the premises of the Embassy of Netherlands in Macedonia. The Mr. Nikola Dimitrov (Distinguished Fellow, The Hague Institute of Global Justice, the Netherlands, BIEPAG member), and Ms. Ivana Jordanovska, presented the brief dedicated to the political prospects of Macedonia to the invited representatives of the other embassies and the EU representatives in Macedonia.
The next day on April 5, 2016, the European Fund for the Balkans and the Balkans in Europe Policy Advisory Group in cooperation with the partner oganisation Insitute for European Policy Institute Skopje organised a discussion with a list of selected Macedonian think-tanks, which are dealing with the topic of the EU Integration of Macedonia, with an idea to open a debate about the current situation in Macedonia, the possible solutions and recommendations for the further activities of the European Union in regard of the EU prospects for Macedonia. An additional event, envisaged as a briefing for the journalist was held the same day at Macedonian Centre for European Training, where BiEPAG Member Nikola Dimitrov presented the Policy Brief to a group of Macedonian journalist which are covering the thematic that is the subject of the brief.