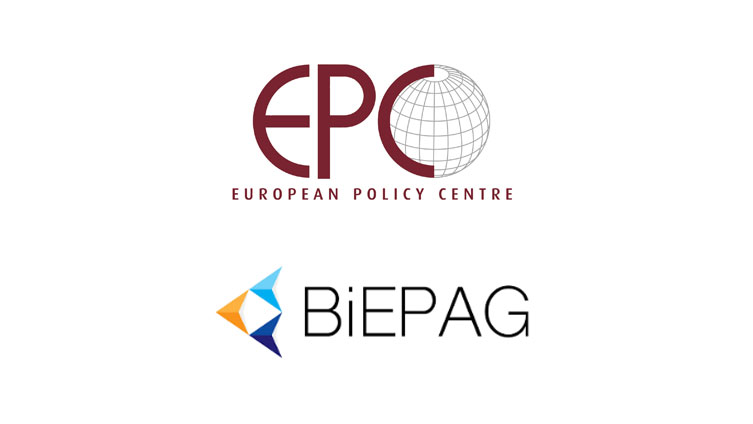 UPCOMING EVENT - Online Discussion
The 2021 Enlargement Package: Restoring the EU's transformative leverage in the Balkans
November 8, 2021
16:00 – 17:30
(by invitation only)
The European Fund for the Balkans (EFB) in cooperation with the European Policy Centre (EPC) will organize the online panel discussion (November 8th, 16:00-17.30) which will be focused on the findings of the latest BiEPAG policy brief "Escaping the transactional trap: the way forward for EU enlargement". The brief which is looking closely at the current state of play of the WB EU Enlargement and the possible ways out, is one of the three BiEPAG's policy briefs which will be presented in the next period and which are based on the latest IPSOS regional public opinion poll in the WB6, commissioned by the EFB.
Last month, the European Commission published its 2021 enlargement package, including a new Communication on enlargement and detailed assessments of the extent to which the Balkan countries have made progress on EU reforms. The package has a strong focus on good governance criteria and notes deficiencies in the areas of the rule of law, the independence of the judiciary, media freedom, and the fight against organised crime and corruption throughout the region, including amongst the front-runners Montenegro and Serbia.
At the same time, the Commission acknowledges the efforts that Albania and North Macedonia have undertaken to fulfil the conditions for opening membership talks with the EU and recommends – once again – that the member states adopt without further delay the negotiating frameworks for these two countries. Apart from the ongoing Bulgarian veto, the situation in Bosnia and Herzegovina and the stalled process of normalisation of relations between Belgrade and Pristina are the other sore points highlighted in the reports.
Will Bulgaria change its position during the Slovenian Presidency? What is at stake if the EU fails to deliver on its promise to Albania and North Macedonia? How can the Union help the Balkan countries still more to meet and sustain democratic standards? How does it support socio-economic development in these countries? Is the existing toolkit of the Commission sufficient to deal with the complex and sensitive issues of state-building and statehood in the region? How can the EU revive the transformative leverage of its enlargement policy?
The panel organised in cooperation with the European Policy Centre Brussels (EPC) will discuss these and other issues, drawing also from the Policy Brief published by the BiEPAG – "Escaping the transactional trap: the way forward for EU enlargement", written by BiEPAG's Members Natascha Wunch, Corina Stratulat, Srdjan Cvijic, Zoran Nechev, Marko Kmezic, Gjergji Vurmo and Matteo Bonomi. The brief is based on a public opinion poll carried out in WB6.
SPEAKERS
Florian Bieber
Professor of Southeast European History and Politics, University of Graz and Balkans in Europe Policy Advisory Group Coordinator
Maciej Popowski
Director-General – Directorate General Neighbourhood and Enlargement Negotiations, European Commission
Natasha Wunsch
Assistant Professor, Sciences Po; Senior Researcher, ETH Zurich, BiEPAG Member

MODERATOR
Corina Stratulat
Senior Policy Analyst, European Policy Centre, BiEPAG Member