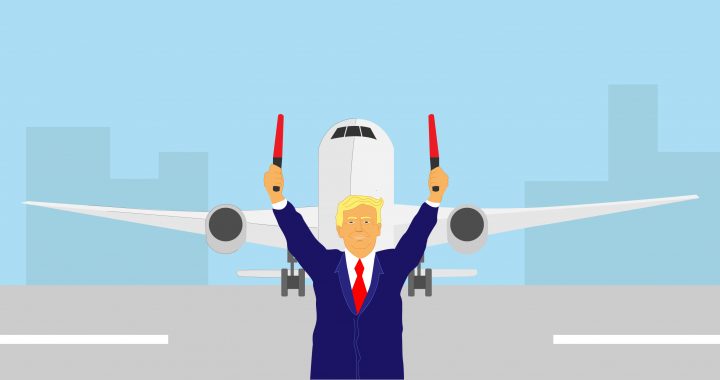 Source: Prishtina Insight
Illustration: Jete Dobranja for PI.
Yesterday's signing of a US-backed aviation deal shows the weakening of the EU as facilitators of a Kosovo-Serbia deal, and leaves a potential Vetevendosje-LDK government further from the negotiation table.
Blue Monday' was quite an eventful day in Kosovo. After three months of dragging its feet, Vetevendosje sent a proposal nominating Albin Kurti as the next prime minister of Kosovo, putting a clear timeframe of 15 days to 'make it or break it' for a coalition government between the party and the Democratic League of Kosovo, LDK.
But as the two potential governing coalition parties were busy tossing the ball back and forth, relations between Kosovo and Serbia, for months completely dormant, suddenly came out of a coma. An agreement was signed opening up the possibility of flights between Belgrade and Prishtina, an air link which has been suspended for over two decades.
The agreement, made between German airline Lufthansa, the Kosovo Civil Aviation Authority and a delegation from Serbia's Ministry of Economy, was signed at the US embassy in Berlin. It was overseen by the US ambassador to Germany, Richard Grenell, who is also US President Trump's newly appointed 'special envoy' to the Kosovo-Serbia dialogue.
The new flight route would considerably cut travel time between Belgrade and Prishtina, with the bus between the two cities currently taking around six hours. The announcement has also raised speculation over the end of a blockade from Serbian airspace for flights traveling to and from Kosovo. Currently flights operate via an air corridor with North Macedonia, which extends flight times by 15-20 minutes, driving up costs for airlines.
However, questions have already been raised about which Kosovo documents will be accepted by authorities at Belgrade's Nikola Tesla Airport – an ID or a passport? – as well as what the approach will be toward persons holding other passports: Will they be able to travel to Serbia having made their first entrance in Kosovo? In other words, is the flight going to be classified as a domestic or an international service?
But whatever the technicalities related to freedom of movement, reaching this agreement reflects a major power shift on the side of the 'facilitators.' It also shows that while the 100 per cent tariff imposed by the Kosovo Government in November 2018 shut down the EU-facilitated dialogue in Brussels, it did not cut off all communication between the two states.
Serbian President Aleksandar Vucic has persistently repeated that the dialogue will not restart until Prishtina scraps the 100 per cent tariff, while the head of Serbia's so-called Office for Kosovo and Metohija, Marko Djuric, said on Monday that the flight between Belgrade and Prishtina would not operate until the tariff is removed and the Brussels dialogue is restarted.
However, the EU's role in finalizing a solution between Kosovo and Serbia now looks weaker than ever, while American influence is growing.
Against a backdrop of limited geopolitical relevance of the EU beyond the single market, a newly established EU Commission and weakly mandated EU External Action Service led by a vocal Kosovo non-recognizer, Trump's appointment of Grennell and this subsequent agreement sends a clear message about renewed US involvement in the process.
By taking a detour that sidelines the EU, the US has clearly shown that it wants results and it wants them fast. While no EU institution has publicly reacted to the news of yesterday's agreement, President Trump, embattled by an impeachment process and controversy over actions in Iran, hailed the agreement between Kosovo and Serbia and the power of his administration's diplomacy through a trademark tweet.
Donald J. Trump ✔@realDonaldTrump

Everyone said it couldn't be done. But for the first time in a generation, there will be direct flights between Serbia and Kosovo. Another win. Thanks to @WHNSC Ambassador Robert O'Brien and Ambassador @RichardGrenell!

With little information made public about how the agreement was reached or its content, the Kosovo Democratic Institute, while appreciating US commitment to the normalization of relations between Kosovo and Serbia, called on Kosovo authorities to be transparent and accountable to the public, in order to ensure confidence in the normalization process.

While not revealing further details, the agreement was praised by outgoing Kosovo Prime Minister Ramush Haradinaj as well as the Presidents of both Kosovo and Serbia, Hashim Thaci and Aleksandar Vucic, who are both keen to reinforce their position as the chief negotiators of a final deal between the two countries.

During the campaign for October's election both Vetevendosje and LDK spoke of the need to revisit the Kosovo president's role in the EU-facilitated dialogue, but the delay over forming a government has left them with yet another agreement backed by Thaci, Vucic and the Americans to incorporate into any restarted negotiations.

It is now up to the next government of Kosovo to follow up with the implementation of the commitments signed in Berlin, and this recent move should serve as a wake up call for both Vetevendosje and LDK. Are they serious about their commitment to change the course of the dialogue? Now is the time to buckle up and become part of the crew, otherwise they will remain in economy class on the first flight from Prishtina to Belgrade.

The opinions expressed in the opinion section are those of the authors only and do not necessarily reflect the views of BIRN.

`