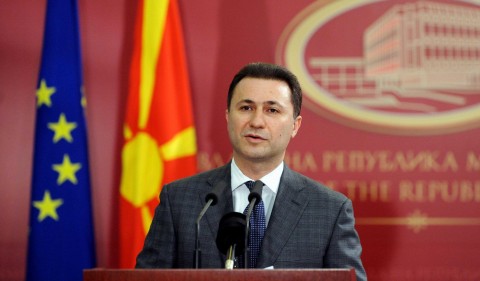 In a surreal turn of events, Nikola Gruevski, Prime Minister of Macedonia, accused Zoran Zaev, leader of the main opposition party, for plotting a coup d'etat with the help of a foreign secret service. A week later, Zaev revealed wire-tapped phone conversations of himself, journalists, leaders of Albanian political parties and members of Gruevski's cabinet. Zaev accused the government of the abuse of power and for illegally following the communication of about 20,000 people in the last several years. He announced criminal charges against the Prime Minister, Sasho Mijalkov, the prime minister's cousin and director of civilian intelligence, as well as one high ranking official in the Ministry of interior.
Since October 2014, the opposition has claimed to have information which allegedly testifies to the government's corrupt and authoritarian practices. However, it is unclear as to how they procured the information and what else they have in their possession. Zaev claims he received the information from patriots in the domestic intelligence community, while Gruevski maintains that it is a plot in conspiration with a foreign secret service. A former director of civilian intelligence, his wife, one employee in the Ministry of Interior and one former employee were arrested and detained as Zaev's accomplices in the plot and for the cooperation with a foreign secret service.
The end of 2014 and beginning of 2015 saw several protests converging in an anti-government social movement with students, professors, teachers, contracted workers and journalist either organizing different protests or going on strike. Each of these civil society groups showed solidarity with the causes of the others. Furthermore, the converging social movements showed a strong awareness of ethnic diversity and had genuine cross-ethnic solidarity.
The opposition began to support the protests in a reserved manner. When many were expecting the opposition to publicize the information in their possession, the prime minister went on the offensive and accused the leader opposition of espionage. He met with students and professors and offered to postpone changes in higher education legislation. His ruling majority in parliament submitted changes in legislation which court the demands of contracted workers.
However, students and professors are cautious of Gruevski's promises and contract workers are not impressed with the proposed changes. Many feel that Gruevski's real intention is to silence the opposition. It seems that Nikola Gruevski, emulating recent practices of Recep Tayyip Erdoğan, decided to suppress rising dissent to his rule and to fortify his authoritarian regime.
What will Gruevski gain?
Gruevski wanted to prevent the opposition from publicizing their information and to discredit them. Another aim of this last political brutality is the wish of Nikola Gruevski to emanate strong political will, consolidate power, and spread fear among the opposition while silencing critical opinions. He also aims to keep the authoritarian regime in check by lining up the democratic institutions which are already under his party's control and through mobilizing his own supporters.
Examples of this can be seen in the police investigation being led under the code name "Coup" and the corresponding of the media coverage with the framing of the case by the police (i.e. media report about the case "Coup"). Pro-government experts and media are conducting an ongoing propaganda labeling campaign. On one hand, they denounce the leader of the opposition; labeling him as a foreign spy, most likely working for Greece (the archenemy of Republic of Macedonia), threatening him not to release the documents,denouncing their credibility once they were released, and ultimately demanding that he be tried for high treason. On the other hand, critics of the government are labeled as the fifth column, mercenaries of Soros and foreign spies.
The first move of the public prosecutor was to bar publicizing any materials related to the case. In the prosecutor's interpretation, publishing information was a risk of committing a felony. When the information went public the prosecutor said he would wait until formal criminal charges against the prime minister and his cousin were raised. It remains to be seen if the judiciary would again prove that Gruevski is right, as was seen in the instance of Zoran Zaev accusing Nikola Gruevski for mediating a murky bank takeover. The court did not investigate the case or Zaev's evidence but instead found him guilty of defamation and ordered him to pay 50,000 Euros as compensation for insulting the prime minister.
In the mean time, public figures supporting the government have announced a "Civic movement to defend Macedonia" from foreign interventions. History professors, play writers, artists and sport-persons, inter alia, have called the citizens to be patriotic and not to allow the state to be manipulated by dark foreign forces.
What are the consequences?
This all goes to show that Republic of Macedonia, EU candidate member since 2005, is steadily sinking under authoritarian rule. Freedom House reports designate Macedonia as "Partly Free" and as a "Transitional Government or Hybrid Regime". Media freedoms are in a free fall. On the World Press Freedom Index, Macedonia went from 34th place in 2006 to 117th place out of 180 in 2015. US and EU reports are concerned with rule of law failures such as; selective justice, political prisoners, wide spread corruption and lack of separation between party and state.
It is no surprise that the EU, Germany, UK and US all issued statements of concern following the prime minister's allegations. The surprise is that Russia issued a statement, its first ever on political developments in Macedonia, of support for the constitutional order. The EU remains a well informed actor, albeit one that is not interested or willing to engage. EU's demand to restore political dialogue seems highly unlikely in the given situation. When Commissioner Johannes Hahn visits Skopje, in a couple of days, it might be the first time that he meets the leader of opposition in Macedonia, who is either on trial for espionage and plotting a coup, or detained in prison. What can the EU do in such a situation?
To make an impact in the short term, EU should demand, and if possible facilitate an independent investigation. As accusation on both sides are serious. An impartial investigation followed by an appropriate institutional resolution is at the moment a minimal necessity. In absence of that, if the case becomes diluted or subject to selective justice, then democracy will further deteriorate. Trust in institutions will most likely decrease, and political polarization and social frustrations will increase.
For an impact in the longer term, a good start would be to take into consideration some of the policy recommendations made recently by the Balkans in Europe Policy Advisory Group (BiEPAG). These recommendations suggest; monitoring the state of democracy in the region, reinvigorating the EU accession process and to remember that if there is a lack of EU integration that other actors will move in to deteriorate democratization and rule of law. The looming crisis in Macedonia may provide a chance for Johannes Hahn and Federica Mogherini to play a decisive role in restoring democracy.
In the mean time Macedonia remains stranded in the EU integration process with the trust in institutions deteriorating and people becoming disillusioned with democracy. Not to mention the name dispute with Greece. Fears, paranoia and xenophobia are mounting. Social unrest and frustrations are likely to increase and there is a potential for stronger convergence of different anti-government social movements.
However the government's responses are likely to become more severe. The ruling majority recently passed legal changes allowing police to use water cannons, electrical guns and rubber bullets to suppress protests. Unless there is a dramatic positive turnaround, it seems probable that polarization will deepen and political tensions will evolve. At the moment, it seems likely that uncertainty and instability will mark Macedonia in 2015. The red light is glaring. Let us hope that it is an alarm and not a ticking bomb.